September Manufacturing: No Pauses
October 3, 2005 – The ISM diffusion index of U.S. manufacturing activity (the PMI) rose by 5.8 index points to 59.4 in September – reaching its highest level in 13 months (Chart 1).
These data offer our first full glimpse of the manufacturing sector after Hurricane Katrina. They show the largest monthly increase in manufacturing activity since June 1991.
The ISM index of new orders shot up by 7.4 index points to 63.8 in September – reaching its highest level since July last year. September orders reportedly benefited from post hurricane cleanup and rebuilding activity. Manufacturers said they anticipate more of this hurricane-related order growth.
Hurricane damage disrupted some manufacturers' supply flows in September, and most saw rising input prices.
The ISM index of supplier delivery delays took an 8.8 index point leap to 59.3 in September (Chart 2). This was its largest monthly increase since April 1979.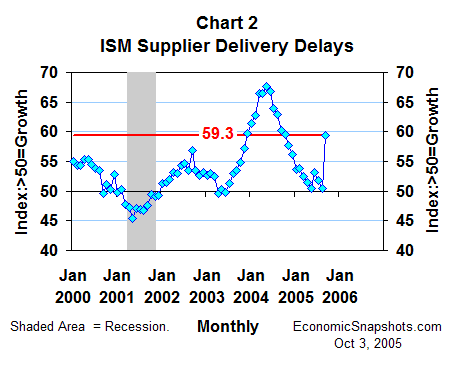 The ISM input price index soared by 15.5 index points to 78.0 (Chart 3). This index has risen by almost 30 points in the last two months.
This combination of very strong manufacturing demand and rising input costs won't necessarily translate into more inflation – not unless firms can muster more pricing power in consumer markets. However, it will keep the FOMC vigilant in its heightened inflation watch.
Suzanne Rizzo
Sources:
Institute for Supply Management (http://www.ism.ws) - the PMI (Purchasing Managers' Index) and other related manufacturing indicators.
National Bureau of Economic Research (http://www.nber.org) - recession dates.