March Consumer Confidence: Bouncing Back
March 28, 2006 – The Conference Board's Consumer Confidence Index rose by 4.5 index points to 107.2 in March – bouncing back after a February decline of 4.1 index points (Chart 1).
Numerically, March consumer confidence reached its highest level since May 2002. But, it exceeded its January level by only 0.4 index points. Qualitatively, confidence continues to look relatively flat – ranging between 102.7 and 107.2 for 12 of the last 16 months.
By historical standards, these are healthy levels for consumer confidence, although we saw much higher levels during glory days of last expansion (Chart 2). That explosion of consumer confidence during the last expansion was driven in part by a sizzling hot labor market – a development that the FOMC intends to prevent, this time around.
Consumers' appraisal of current labor market conditions was little changed in March. The portion reporting that jobs are currently "hard to get" rose by 0.5 percentage points to 20.7% (Chart 3). At the same time, those reporting that jobs are currently "plentiful" rose by one percentage point to 28.4%. Thus, the net portion reporting that jobs are currently "plentiful" ("plentiful" minus "hard to get") edged up by a half percentage point to 7.7%.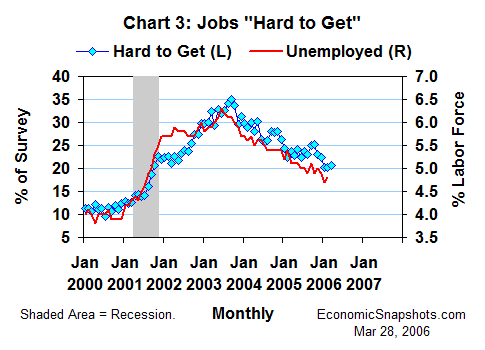 On balance, these data seem to suggest little or no change in the March unemployment rate (coming next week, on Friday).
Suzanne Rizzo
Sources:
The Conference Board, Inc. (http://www.conference-board.org) - the Consumer Confidence Index and related data.
U.S. Department of Labor, Bureau of Labor Statistics (http://www.bls.gov) - the unemployment rate.
National Bureau of Economic Research (http://www.nber.org) - recession dates.