The May Employment Report
June 2, 2006 – U.S. payroll employment was essentially unchanged in May – edging up by just 75K (Chart 1). This followed a revised 126K gain in April payrolls (originally +138K). Revisions reduced the prior two months' payroll growth by a total of 37K.
Payroll growth averaged a modest 125K per month for the three months through May (Chart 2). That's 92K less than its recent peak of 218K per month for the three months through January.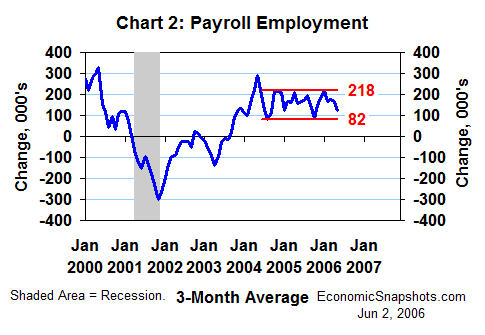 This three month trend in payroll growth has fluctuated in a range of 82K to 218K for the last 24 months. The May data failed to break out of this range. Thus, despite the latest slowing, these data have yet to show clear evidence of a major new development on the job creation front.
The unemployment rate edged down by 0.1 percentage points to 4.6% in May – continuing to indicate a relatively tight U.S. labor supply (Chart 3). The May unemployment rate was 0.6 percentage points below the Congressional Budget Office's 5.2% estimate of its full employment level.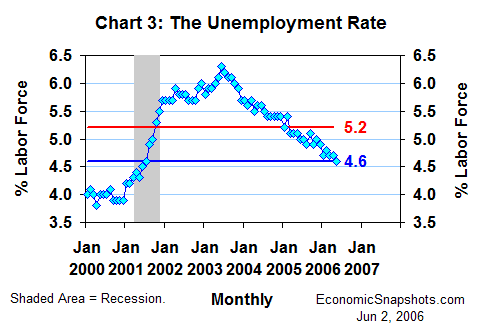 The labor force participation rate was 66.1% for the fourth straight month in May. This stubbornly low labor force participation rate continues to suggest that the unemployment rate might be understating the economy's "true" labor reserves.
Average hourly earnings growth slowed to a 0.7% annual rate in May after a huge 7.5% April increase (Chart 4). That reduced the three-month trend in earnings growth to a more moderate 3.7% per month for the three months through May. For the three months through April, average hourly earnings rose at a 5.2% annual rate.
Bottom line: slower May growth in both payroll jobs and average hourly earnings should help to ease FOMC members' fears of wage inflation.
Suzanne Rizzo