June Manufacturing Activity: "Coping"
July 3, 2006 – The ISM diffusion index of U.S. manufacturing activity edged down by 0.6 index points to 53.8 in June, extending May's 2.9 index point decrease (Chart 1). June's index level indicates moderate growth in the manufacturing sector.
The ISM production index fell by 2.1 index points to 55.1 in June after falling by 3.2 index points in May.
However, the rebound in June new orders bodes well for future production growth. The ISM new order index rose by 4.2 index points to 57.9 in June, more than reversing May's 3.9 index point drop (Chart 2).
According to the ISM press release, demand from the construction sector has slowed "considerably", but manufacturers are benefiting from the weaker dollar and business fixed investment.
The ISM input price index edged down by 0.5 index points to 76.5 in June, but continued to signal the strongest growth in input prices since the aftermath of Hurricane Katrina last year (Chart 3).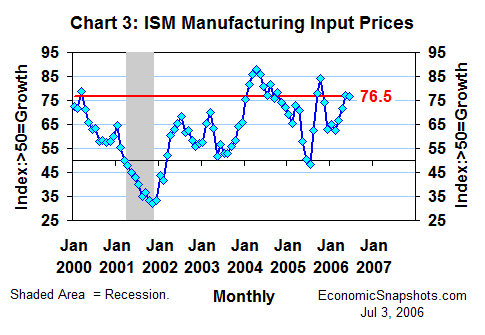 The press release said, "While energy and raw material prices are still a concern, our members indicate that they are coping with the challenges, and generally see their businesses in a continuing growth mode."
However, the ISM survey failed to find continuing growth in June manufacturing employment. The ISM employment index fell by 4.2 index points to 48.7 in June (Chart 4). This suggests that we might see further weakness in the manufacturing sector's payroll employment count in June (coming in the June employment report, on Friday).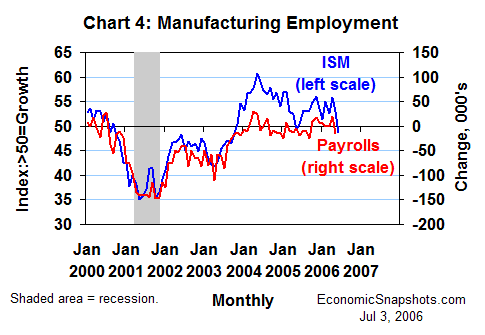 Bottom line: Moderate growth in overall manufacturing activity and very strong growth in manufacturers' input prices in June.
Suzanne Rizzo