The August FOMC Meeting: Time for a Pause
August 8, 2006 – As generally expected, the FOMC voted today to leave its Fed funds target unchanged at 5.25%. Before today's policy decision, the FOMC had been tightening steadily for about two years – raising its Fed funds target by 25 basis points at each of its last seventeen regular policy meetings (Chart 1).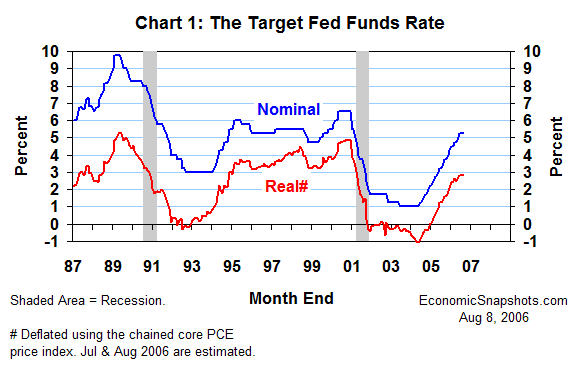 Richmond Fed President Lacker voted against today's decision to leave U.S. monetary policy unchanged. He would have preferred to raise the target Fed funds rate by another 25 basis points, to 5.5%.
In its post-meeting policy statement, the FOMC continued to hammer home the same basic message issued after its last policy meeting in June. (This message was further embellished in Fed Chairman Bernanke's semiannual economic testimony last month.)
Specifically, inflation has exceeded FOMC members' comfort range in recent months, but real domestic demand growth (especially real consumption growth) slowed sharply in Q2. Going forward, the FOMC expects real demand growth to stabilize on a "sustainable" trend (presumably about 3% to 3.5%) – strong enough to keep the expansion healthy, but slow enough to gradually defuse the current upward pressures on inflation, "over time".
Thus, if real demand growth continues on a "sustainable" trend and the inflation indicators don't get any worse, the FOMC majority seems to be prepared to leave U.S. monetary policy unchanged for an extended period.
At the same time, the FOMC statement's continuing emphasis on the economy's inflation risks suggests that the FOMC remains more inclined to tighten than to ease in coming months. In particular, if real demand growth seems to be rebounding too strongly in Q3 or the inflation indicators deteriorate significantly more than they already have, the FOMC probably would decide to tighten again.
Bottom line: If the economy continues to meet the FOMC's expectations, we are probably due for a long stretch of unchanged U.S. monetary policy.
Suzanne Rizzo