How Big Were Those Fed Funds Cuts?
February 8, 2008 – At its last policy meeting, on January 30, the FOMC voted to reduce its target Fed funds rate by 50 basis points to 3% (Chart 1). This followed a 75 basis point cut. That move was a special, inter-meeting policy change, and it took place just one week earlier.
The FOMC first began to ease U.S. monetary policy in September last year. Since then, it has reduced its Fed funds target by a total of 225 basis points. Over half of this total easing activity was concentrated in those January Fed funds cuts.
For January as a whole, the FOMC reduced its Fed funds target by a total of 125 basis points. In data dating back to September 27, 1982, this was the largest monthly reduction ever.
Within the last two decades, the closest contender was January 2001 (Chart 2). That month, the FOMC reduced its Fed funds target by a total of 100 basis points, to 5.5%, in two 50 basis-point moves. The 2001 recession began three months later, in April.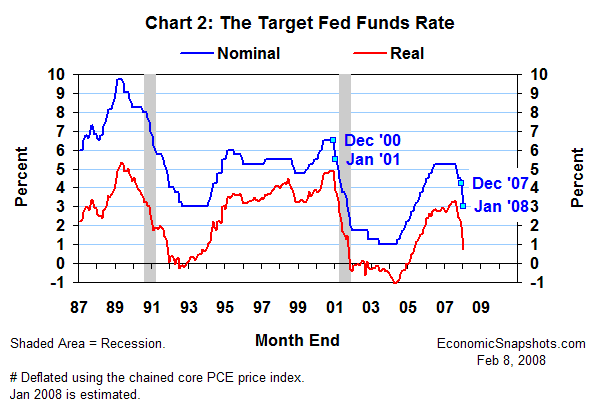 Even after its latest easing action, the FOMC said in its policy statement, the economy's downside risks remain unusually high. Thus, depending (as always) on the incoming data, the FOMC stands ready to ease further "as needed to address those risks".
On Thursday next week, Fed Chairman Bernanke will join with Treasury Secretary Paulson and Securities and Exchange Commission (SEC) Chairman Cox to testify to the Senate Banking Committee on "The State of the United States Economy and Financial Markets". Perhaps he will provide some new insights, there, regarding the FOMC's current state of mind.
Suzanne Rizzo