March Manufacturing Activity
April 3, 2008 – In data released earlier this week, the ISM index of U.S. manufacturing activity edged up by 0.3 index points to 48.6 in March (Chart 1).
Despite March's slight increase, this index still signaled a decline in March manufacturing activity (an index level below 50). That's been true for three of the last four months.
Within the survey details, the index of manufacturing production fell by 2 index points to 48.7 in March. At the same time, the new order index fell by 2.6 index points to 46.5 (Chart 2).
The new order index has been signaling declines for four straight months. March's level was the lowest since the last recession. This weakness in manufacturers' new orders is a poor omen for future production growth.
Despite eroding real activity, the index of manufacturers' input prices shot up by 8 index points to 83.5 in March (Chart 3). Thus, the economy's underlying inflationary pressures continued strong.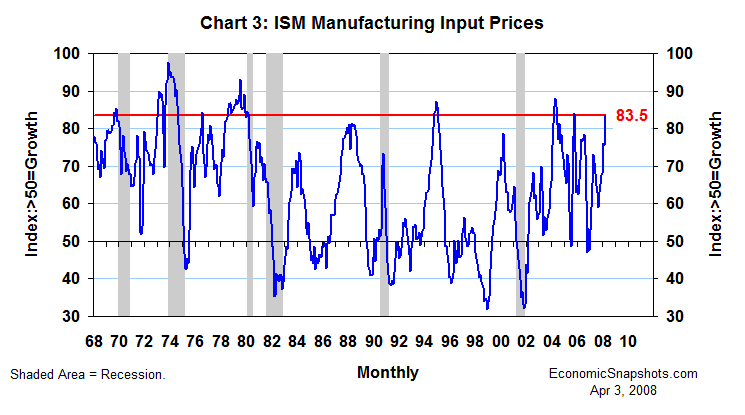 However, as long as sagging real demand is working to keep price growth subdued, there shouldn't be very much risk of runaway inflation. Instead, firms may be forced to swallow these cost increases in the form of lower profits.
Suzanne Rizzo
Sources:
• Institute for Supply Management (http://www.ism.ws) - the ISM diffusion index of U.S. manufacturing activity (also known as the Purchasing Managers' Index, or PMI) and related information.
• National Bureau of Economic Research (http://www.nber.org) - recession dates.