Payroll Jobs and Recoveries
October 14, 2010 – It's finally official. The National Bureau of Economic Research said last month that the U.S. recession reached its trough in June 2009.
That means the recovery reached its 15th month in September this year.
As far as hiring activity is concerned, it's been a dismal 15 months.
In the September employment data (released by the Bureau of Labor Statistics, last week), payroll employment edged up by a mere 0.3% in September compared to the same month last year (Chart 1).
The good news, here, is that these payroll jobs are no longer in freefall, as they were for most of last year.
Compared to their level 15 months ago (at the trough of the last recession), September payrolls edged down by 0.3% (Chart 2).
That's because payrolls continued to show large monthly declines for four straight months after the recession ended. And, we haven't seen enough growth since then to fully make up for those post-recession losses.
Both of the prior two expansions were notorious for the lack of job growth during their early years. This one seems to be following a similar pattern.
There is an important difference this time. The recent recession did a lot more damage to the labor market (Chart 3).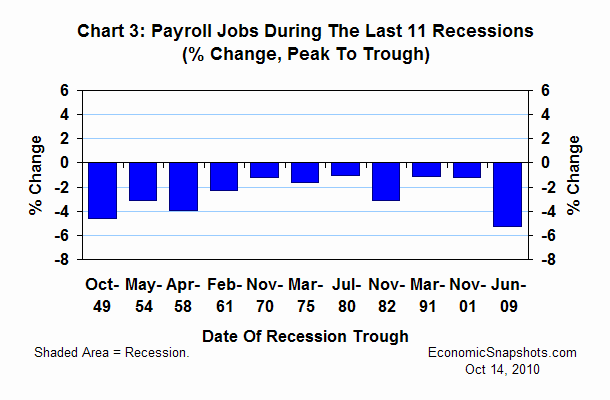 Payroll employment fell by 5.3% during the last recession (measured from the economy's business-cycle peak through the recession's trough). That's a new record decline for postwar recessions (since the end of World War II).
In both of the prior two recessions (in 1990-91 and in 2001), the comparable job declines came out to slightly more than 1%. The downturn in the recession just past was roughly 5 times worse.
Thus, this expansion will need a lot more job growth just to break even on the job front (Chart 4).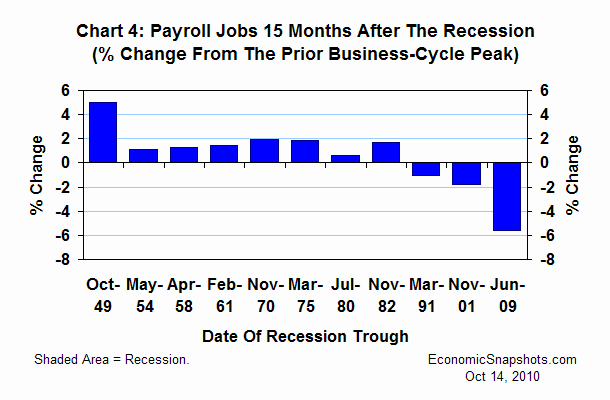 Reflecting both the recession's losses and the lack of growth to date, September payrolls were running 5.6% below their level at the peak of the last expansion. That's another postwar record low.
After the recession in 1990-91, it took 23 months to restore payroll jobs to their pre-recession level. After the 2001 recession, it took 39 months.
Bottom line: Unless we see a lot more job growth in coming months, full recovery of the labor market could take a very long time.
Suzanne Rizzo